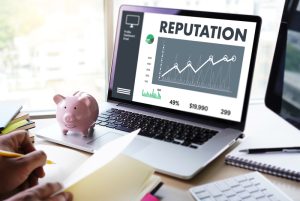 Having a strong brand reputation is a necessity for your businesses' continued success. Building a brand reputation is an arduous and grueling process that requires time, work, and finesse. But damaging a brand reputation can be shockingly easy, and hard to recover from. A part of building and maintaining brand reputation is protecting your brand from damage. Here are eight of the most common risks to a brand's reputation and how to protect your brand from them. 
Inconsistent Messaging
Consistency is key. And this is as true in business as it is in life. When you have inconsistent messaging about your brand, your goals, your values, and your products, you sow distrust in your customers and clients, which is not exactly what you want. Keep your messaging consistent and your brand will be viewed as consistent, trustworthy and stable, all things consumers are looking for in the businesses that they want to support. Make sure that your marketing team understands what your brand is about, and what your policies and standings are so that you can remain consistent in all messaging relating to your brand image. 
Poor Product Quality
This one is obvious. If your products are poorly built, break easily, require ridiculous amounts of maintenance, and don't stand up to the industry standard quality needs of your brand, then people are going to associate your brand with shoddy craftsmanship and poorly built and designed products. Make sure that anything you sell to your customers is constructed properly and is built to last. The last thing you want is angry consumers with broken or damaged products blaming your brand on social media for being a producer of low-quality goods. 
Poor Customer Service
Everyone hates bad customer service. Don't be one of those businesses that offers low quality customer service to your customers. When a customer purchases from you, they want to be purchasing your belief in your products and want you to stand by your promises. When customers must call customer service, it is because something that is not consistent with what your brand stands for has happened to them, whether it is an honest mistake, a broken or damaged product, or something else. Let your customers have what they want in customer service with friendly and attentive help that gets to the root of the problem and makes customers feel valued, heard, and compensated. 
Data Breaches
In today's digital age, you probably do a lot of business online, doing business transactions from your website. And this means that your website holds a lot of sensitive information, especially that of your customers, in its databases. This makes business websites frequent targets of cyberattacks. This often happens when business owners take IT matters into their own hands when they have no expertise in cybersecurity. Outsourcing IT services can help you focus on your business specialty. This can help protect your website from attacks which damage your brand reputation while freeing up your time to focus on your brand. 
Viral Customer Complaints
This is a common symptom of ineffective customer service options at your business. When customers feel that customer service can't solve their problems, they often take their problems to the internet, sharing them across social media platforms and blogs so that other people don't patronize your business, trying to tear down your brand. These types of customer complaints have the potential to go viral, sharing bad press about your brand across the globe. Make sure to respond to complaints from your customers and try to address their problems quickly and with enthusiasm, so that those viral complaints don't happen, and instead your brand is the subject of viral praise from customers pleased with your brand. 
Ineffective or Toxic Management
The climate of your executives and business managers is essential to the reputation of your brand. When you run a bad business with toxic qualities like abuse, or unsafe and unwelcoming workplaces, disgruntled workers can take their complaints public. People don't like to see brands treating employees poorly. It leads to great dissatisfaction and can make your brand seem oppressive to consumers. So, make sure that your workplace is the beginning of your brand's culture. Spread positivity and eliminate any strain to work life on your employees, make the brand shine through your workforce and you will eliminate this risk to your brand's reputation. 
Accounting Mistakes
You need to make sure that you get your numbers right every single time you discuss sales figures with the public or with shareholders in your business. When the accounting department makes a mistake that leads you to have to backtrack on your sales figures, perhaps disclosing that your brand has not performed as well as advertised, you can cause stock price crashes and destroy the trust that your shareholders have in you. This leads to negative press in the news and a distrust of your brand in the public eye. Just look at Volkswagen and the environmental data scandal. While that is not exactly an accounting issue, you can see the negative attention you can get with mistakes and misleading numbers. 
Vet Your External Partners
You can't control what your external partners, like suppliers, marketers, advertisers, etc. do, but you can control what external partners you work with. When a company that you work with closely has scandals, performs unethically, or has problems that damage their reputation, it can damage your brand's reputation by association. Make sure that you are doing business with partners that you trust, whose values align with yours, and who you know do ethical work. This can help eliminate the risk of an external partner dragging down your brand's reputation with them if things turn south. 
Your brand's reputation is a major asset for your business that must be protected at all costs. While you can't always prevent bad things from happening, you can do your best to mitigate damage and eliminate risks to your brand. By following these eight tips, you can put your brand in a secure place to ensure that your brand can survive anything and remain a positive brand in the minds of consumers.
Read this next: How an Active Blog Can Strengthen Your Business
Please follow and like us: